COVINGTON, Ga. - Members of the Covington-Newton County 9-1-1 Center are looking forward to celebrating National Public Safety Telecommunicators Week April 14-20.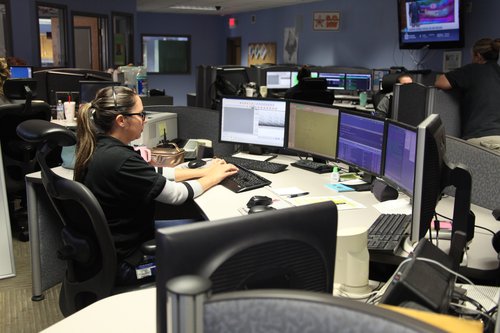 According to its website, NPSTW is celebrated the second week of April each year. 
Dara Penland, C-shift team leader, said 911 operators face challenges that residents might not even be able to imagine. 
"It is always different," she said. "Some days it will be routine calls during the days and some days it will be hectic."
Local operators go through up to a year of training and then go into working 12-hour shifts.
"You just never know, you never know what to expect," she said.  
One of the toughest parts, Penland said, is not always getting closure on a call. 
"We don't know the outcome of calls that much," she said. "So we don't get to hear about how they did after the fact like police officers and EMS do. So that's hard on us. 
"That can cause a lot of us to have added stress to the job, but sometimes it can lead into PTSD and things. You just don't know the final outcomes.
"It's hard for us because we can't be out there with them."
Penland said that added stress can lead to high turnover rates for the center. 
The 10-year veteran to the center, Penland said a lot of calls have stuck with her through her career. 
"Probably for me, I wasn't working at the time, but we relieved the ones that were here, but probably when Officer Cooper was shot, that definitely sticks out the most," she said. "Anytime an officer is in stress, it's hard.
To celebrate NPSTW, shift leaders will treat their operators and celebrate together, but Penland said recognition from residents make the job much more rewarding for the operators. 
"We try to get the operators as much recognition as we can because not a lot of people see us," she said.