COVINGTON, Ga. — Call it a second chapter in the quarterback story for the Newton Rams. 
After losing their last two games —  a blowout to Buford and a heartbreaker to Westlake — head coach Terrance Banks knew that his team losing three straight for the first time since 2013 was not an option. 
In fact, Banks considered the opening region contest against South Gwinnett as the true "start of the season," and knew that his team needed to start 1-0 in region play to get back on track, which they were able to do thanks to a strong performance from Neal Howard, who passed for 143 yards and two touchdowns in the second half to lift the Rams over the Comets 31-7 in the Region 8-AAAAAAA opener for both teams. 
"I'm happy that we're 1-0," Banks said. "Every week, we've got to go 1-0. That's our goal and that's what we fight for."
Following the two losses, Friday night's game couldn't have started any worse for the Rams. 
On the first play from scrimmage, quarterback LT Stowers had his passed tipped in the air, picked off and brought back to the Rams eight-yard line. Three plays later, South Gwinnett was on the board with a 7-0. 
But Banks knew that he didn't have to talk his team back into the game so early, and he knew that they were going to continue to fight. 
"They were good," he said. "We knew the circumstances and we went to work."
On their ensuing drive, the Rams were able to get a short field when Robert Lewis returned the kickoff 68 yards to the Comets' 13. From there, despite going three-and-out, they were able to inch closer to the lead with a 22-yard field goal from sophomore Abdiel Velasquez. 
Defensively, the Rams held tough throughout the first half, not allowing any big plays from the Comets and were able to give the offense another chance at a score. In their best drive of the first half, LT Stowers capped off a 10-play drive with a 13-yard touchdown pass to Adarius Thomas to give the Rams their first lead of the game. 
Despite the touchdown, Stowers and the offense struggled throughout much of the remainder of the half, triggering coaches to insert Neal Howard in for the second half. 
"We felt like we were kind of stagnant, and we have two great quarterbacks," Banks said. "We believe in both LT and Neal. I keep telling people, 'I don't know who's going to play,'. But we believe in both of them, so if we feel like we have to make a change, we will do it, and we felt the need to try Neal, who we thought was ready, and he performed amazing in the second half."
Howard's entrance was the spark Newton needed to get rolling on offense. 
On the second drive of the third quarter, Howard found Lewis on a slant that went 91 yards for a score to give the Rams a 10-point cushion. 
With the offense rolling, the defense continued to lockdown the Comets' offense, pitching a shutout the rest of the way, which was a feat coach Banks had endless praise for.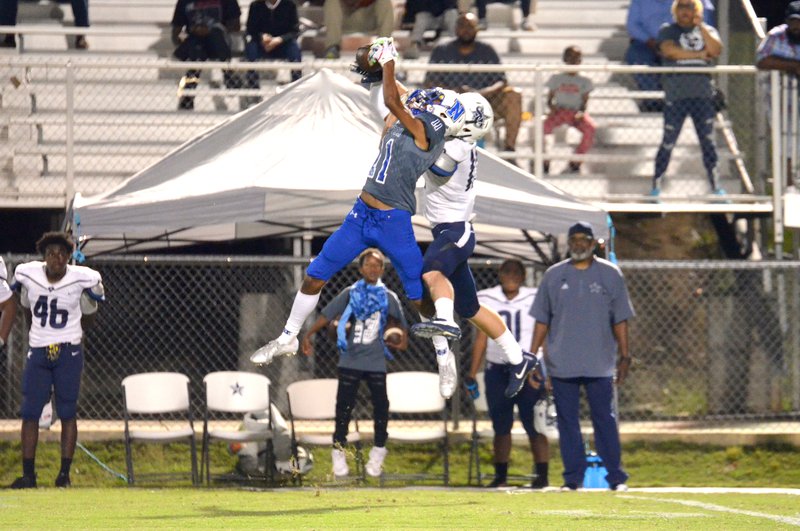 "I liked the way the played," he said. "(South Gwinnett) came out in the second half rain and tried to run it down our throats, and my defense did not give up. I cannot rave enough about the job the defensive staff is doing. They're doing a great job putting our boys in position, and they went out and made plays."
With full control of the game, Howard continued his dominant performance, finding Thomas for a nine-yard touchdown reception — Thomas' second of the game — after the senior running back streaked for 44 yards down the field earlier in the drive to get the Rams in scoring position again. 
Howard's performance only seemed to reinforce Banks' assertion that his quarterback situation is potentially a good problem to have. 
"We practice both of them, and they get 50/50 reps and split everything," he said. "Here's what people don't understand about both of them: Yes, they both want to play very, very badly, but they are great friends. They work with each other, they do plays with each other, they do the game plan together. There is no selfishness between them, and because of that, that is why we're able to thrive."
For Howard, he believes that changing the tempo was a key to his success in the game. And heading into next week's game against Archer, he knows that he has a shot to lead the offense, which reflects in his thoughts heading into that game. 
"Keep working hard," he said about his mindset. "Go to work and keep working."
Banks knows that this Archer team will be tough to beat, especially on the road. But he believes his bunch is ready for the challenge.
"They're very tough," he said of Archer. "We've got to get back to the drawing board and see what we didn't do good and see what we did do good and try to put our boys in position. This is why we had those five games. We had to schedule our rivals, and then we tried to find three teams that would test our mental for this. This is what it's about, and the boys knew that.
"The Westlake game ended horribly for us, trust me. But it taught us the resiliency of the Newton Boys. Those boys believe in each other in the locker room. When the boys believe In each other, they're going to fight."