COVINGTON, Ga. -- Team unity. 
It is an indispensable attribute for successful sports teams of all levels, and for the Newton Rams volleyball team, strengthening team unity is one of their primary goals for the season. 
That is at least true for first year head coach, Lavon White. 
"To get to that next level, it's about, how does a team come together and play for each other instead of individually?" he said. 
One way that White says the girls help build team bonds is by varsity and JV both practicing together, led usually by the seniors who assist him with uniting the team.
"I really get help with some of the seniors," he said. "I have Angel and Dominique, who is in her first year with the program from California. I also have a talented junior in Mariah, who is our main setter as well as a strong hitter in Justice Walker."
While there are plenty of leaders throughout the team, their 3-6 record doesn't speak for the team's potential according to White, who has seen some hindrance in the progression of the team due to some key injuries throughout the season already.
"We haven't been fully staffed for at least three or four games due to various injuries and medical issues," he said. "I'm looking fo to having everybody ready to go towards the end of the month when we start getting into area play."
Along with injuries, different transitions like the term "area" are some of the various obstacles White is trying to get over as well. As a basketball coach and soccer coach, he is used to the more prevalent term "region" that categorizes the team groupings. Along with this, the level of emotion is different between volleyball and the previous sports he has coached. 
"I think I bring a different level of intensity," he said. "I'm not the normal volleyball coach, and I'm not laid back. I'm a little more intense on them. I bring that basketball mentality, which is totally different. My assistant coach, Coach Cotton - who is in her first year as well - and I work well together, and we are learning."
White also made note that he is learning from his players just as much, if not more than he is teaching them.
"I'm a willing learner, and that is something that has helped throughout the season," he said. "They have more years in the sport than I do. They have taught me everything. From the basics, to the flow of the sport, because it is different from basketball."
White stated this difference extends from the pre-game preparation, to the game itself, and that he likes to keep an open mind about everything, including the transition from the previous coach to himself.
"I'm learning as I go," he said. "The main thing is trying to build the unity in the program. If I can at least lay down that foundation, whether I am here next year or not, that would be something that they can prosper over."
From practicing together, to helping teach him as the season progresses, White also jokingly referred to another way that his players form bonds.
"Most of the girls have nicknames that we have all given each other," he said. "One of the best is Justice's nickname, which is "Swiffer", because she always ends up on the floor when she plays."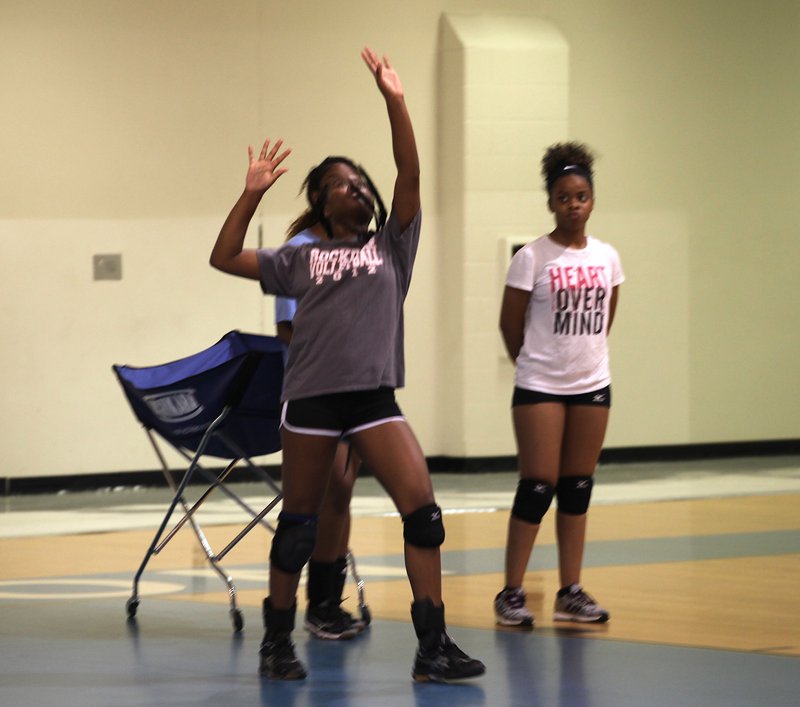 White has two primary goals for the season. He wants his younger players to get more experience playing, particularly in one way.
"My goal is to get some of these JV girls involved in club play," he said. "Some of the top schools in any sport all have one thing in common, their players have grown up playing together in clubs and different organizations. The only problem with this, is that it is so expensive."
But despite the price tag, the payoff could be big for some players.
"The growth and development of the girls can lead to some scholarships at any level, including division 1 play," White said. "There is nothing better than free education no matter what level of collegiate sports you play on, whether it is D1 or NAIA."
While this is certainly a future goal for White, his other primary goal focuses more in the present and on the outlook of the season: make the state playoffs.
"I'm not going to lower my expectations either," he said. "The program hasn't been to the state playoffs since 2011, when we were still in the old building. I would love to surprise the area and make it to the state playoffs."
Not only does White think he can do this with the team unity he has exhausted his time and energy into building up, but he also thinks that the talent is there now to accomplish this goal.
Despite the talent and cohesiveness, White noted the biggest challenge is consistency with their serves and passes, as well as their energy during the game time.
They'll look to overcome these challenges fast and continue growing their unity with some big, upcoming games, including senior night against Alcovy next Thursday, before entering area games at the end of the month. 
"We have the talent to definitely do that," he said. "It is about bringing that and the unity together at the right time, and the way volleyball is set up, it doesn't matter what our record is right now. It will matter when those area games start."
The volleyball team will look to overcome these challenges fast and continue growing their unity with some big, upcoming games, including senior night against Alcovy next Thursday, before entering area games at the end of the month.