COVINGTON, Ga. – The Covington City Council will discuss a special use permit for a proposed low-income senior multifamily housing project at its Nov. 13 meeting, after agreeing to table the discussion Monday evening. 
The SUP request was filed for the 122-unit apartment complex to be located at 11101 Covington Bypass Road, which is located between Indian Creek Middle School and the Highway 36 intersection. The property is currently undeveloped.
The area is zoned Corridor Mixed Use, which allows for multifamily housing, but any project exceeding 5 acres must receive a SUP approved by the city council. The planned development would sit on a piece of property that is 8.891 acres.
Planning & Zoning Director Scott Gaither said the project complies with all multifamily regulations and staff recommended approval of the request. 
Councilmen Josh McKelvey and Anthony Henderson questioned the timing of the traffic study included in the SUP application. Gaither said the study was completed in July, but the applicant added 10 percent to account for school-related traffic. 
"I saw that it was conducted in July and obviously that intersection's busiest time of year is during the school year," McKelvey said. "So, I did see the addition of school traffic, but what I see that 10 percent estimate looks very low. You know, from driving by – and this isn't anything scientific, but just from me observing – but it looks like the traffic more than doubles during the school year, not a 10 percent increase.
John Nix, attorney representing the developer, said the traffic impact would be minimal because of the senior age requirement (55+) of the development. 
"Regardless of when the counts were taken, what the traffic report also says is because this is a senior housing facility the increase in traffic produced by this particular development is negligible," he said.
"It's because of who lives there. It's just not that much traffic generated. It's totally different than an apartment complex of this size that is not limited to the elderly."
Nix said the only opposition he has heard on the project that falls under the criteria of the SUP is about the traffic report.
"To have comments from laypeople about what traffic is – and I understand they see the traffic and they live the traffic – but the traffic engineer is the best way to present it to you and the best way to present the criteria," he said. "None of the other criteria have even been touched. They haven't been mentioned."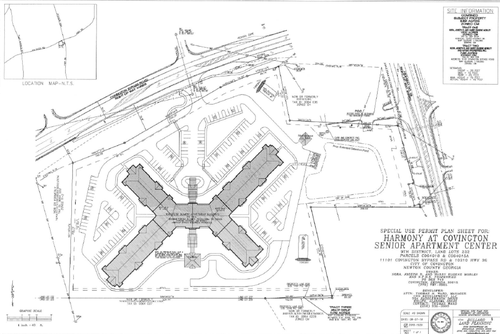 McKelvey disagreed with Nix and said he drives in the traffic regularly. 
"I heard of something – and I don't want to get in a tit for tat here – but I don't appreciate … let me just say this, I know a professional engineer can look at this study and they can say 'Oh, there's a 10 percent increase in traffic,' but those 'laypeople' that live in the corridor and people that live there and drive through there all the time, I can promise you it is more than 10 percent," he said. "I don't appreciate that comment and I want to go on the record to say that."
City Attorney Frank Turner clarified that the council could not require the developers to take another traffic study. 
Nix said the development would provide senior housing at a low-income rate ranging from $724 to $865 per month, including utilities. 
"I've gotten a couple phone calls today from people who have said basically that this development is going to turn our city into – and I apologize for this if any of you are offended – into 'crap," Covington Mayor Ronnie Johnston said, asking Gaither for his opinion the proposed project.
"I don't believe this one development would make the area or the city 'turn to crap,'" Gaither said. "I think there's a lot of things that go into play when something is considered 'crap.' I don't believe this could potentially turn the south part of the city, or the city as a whole, into a negative environment.:"
Councilwoman Hawnethia Williams said the stereotype of a low-income housing development brings concerns into the community that other projects do not necessarily face. 
"My concern is that in the instance when there is the building of low-income housing, there always seems to be some stereotypical attitudes about low-income housing because of the misconceptions or preconceptions of the kind of people that low-income people are and therefore they are not the kind of people that you want living near you, so as if it is unacceptable for them to be near our schools or near us period," she said. "We have a community here that is very loving and very caring, but it seems like each time we have even an inkling of a low-income housing, a lot of people come out of the woodwork and there's the stereotypical discriminatory attitude about it because they feel like these people or clientele will be an unlikely element of what we want around us or near us anywhere in Covington, Newton County, Georgia, United States, period."
Fleeta Baggett said she was representing a group of concerned citizens when she said the low-income senior development is not the issue with the development, but it was instead the location of the project. 
"At some point in time you did a 90-day moratorium on the apartments. We need a five-year moratorium on apartments, not 90 days. I mean, we are hemorrhaging with this housing," she said. "It has got to stop."
Nix said housing developments cannot be stopped "on the basis you don't like it," and argued that voting against the SUP would be a violation of the state and U.S. Constitution and the Fair Housing Act.
McKelvey made a motion to table the council's decision to get more assurances on the traffic study. Councilman Anthony Henderson seconded the motion stating he also needed more time to make his decision. The motion to table was approved 5-1 with Williams in opposition.