COVINGTON, Ga. — On a night full of emotion as the Eastside Eagles staged a memorable pregame tribute to Covington police officer Matt Cooper, the Eagles made sure that good vibes would continue during the game as Class AAAA's No. 8 team blitzed Luella in a 58-15 Region 4-AAAA win Thursday night. 
The Eagles were charged by a rushing attack that amassed more than 350 yards with Taylor Carter and Quincy Cullins, Jr. leading the way. Carter rushed for 115 yards and three scores while the sophomore Cullins rolled led with 124. 
"It always starts with those guys up front," Eastside coach Troy Hoff said. "I'd say it's the five, but it's really everybody else. It's the quarterback carrying out his read fakes. It's receivers being really, really aggressive with their blocking, and we've got guys who aren't afraid to come down hill with the ball." 
Quarterback Noah Cook can attest to that. The junior signal caller didn't have to do much after going 10 for 14 with 97 yards passing and two touchdown strikes in the first half. In fact, Cook never threw a pass in the second half of a game that saw a running clock for the fourth quarter. 
"Oh man, our offensive line did phenomenal, and our running backs did just as good," Cook said. "They were just running, finding holes. I didn't have to do much. Just give them the ball and let them work."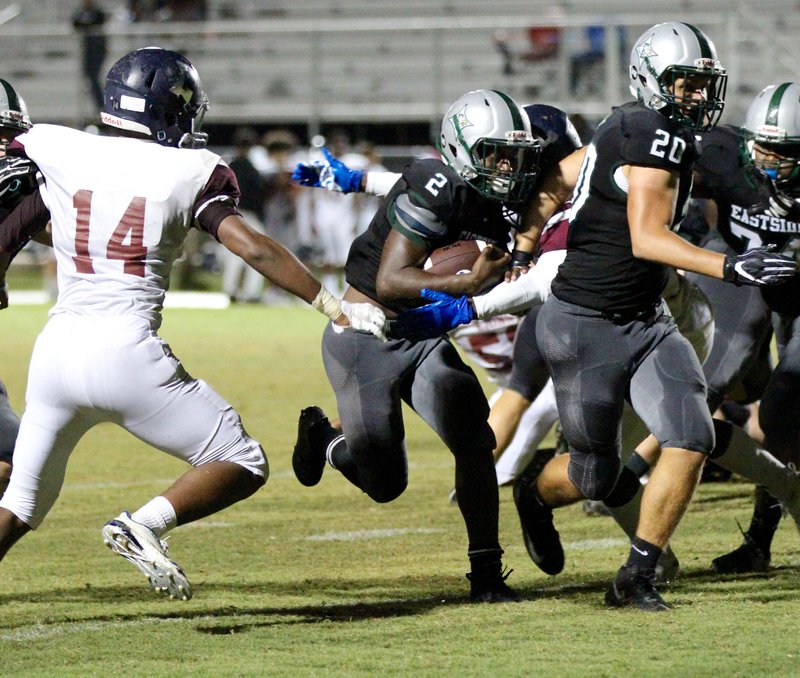 It took a while, though, for the Eagles to get things working, particularly early in the contest.
Eastside (5-0, 2-0) missed an opportunity to put six on the board on its first drive as Jamari Brown bobbled and then dropped a perfect pass from Cook on a 3rd-and-6 play that would've put Eastside inside the 15-yard line. 
Instead, the Eagles settled for a 43-yard Kade Mote field goal that put them ahead 3-0 at the 9:18 mark of the first quarter. 
Eastside's offense struggled a bit more with drops and missed execution on its second drive. 
Jordan Rogers mishandled a second down pass from Cook that preceded Cook falling to a quarterback sack on the next play. Then on fourth down, Luella's defensive front pushed through for a blocked punt that set the Lions up with good field position. 
Luella's offense took advantage of the miscue, when quarterback Jalen Doby engineered a 16-play, 42 yard drive that was kept alive by a controversial catch call when Doby found Lamar Overton, hitting him with an over-the-shoulder catch that looked like it wasn't cleanly handled. 
Five plays later, DJ Conway bullied his way into the end zone from one yard out. Conway also converted a 2-point conversion run that gave the Lions an 8-3 lead at the 10:15 mark of the second quarter. 
"We weren't real smooth to start the night, and I'm gonna give (Luella) credit," Hoff said. "They came out and were real physical, and we didn't execute in some areas, and we were in a dogfight. But give our kids credit. We tell them don't worry about the scoreboard. Play the next play. And when they do that, good things happen."
Although it was the first first-half deficit for Eastside since being down 6-3 in the Newton game, it wouldn't last long as the Eagles marched 86 yards on six plays, fueled by chunk yardage on the ground, including pick-ups of 10 and 16 from Cullins and a big 53-yard scamper by Carter. 
That set up a 3rd-and-goal play from the 4-yard line where Cook exercised a run-pass option as he faked a handoff, rolled left like he was going to run and then floated a pass to Jerry Mays who was trickling into the back of the end zone. The scoring strike put Eastside up 10-8 with 8:24 left in the second quarter. 
The back-and-forth nature of things continued, however, as Luella struck back on its very next possession. It happened on another 3rd and long pass play, this time a 76-yard hook-up from Doby to Overton who caught it after juggling it a bit and then outran Antavious Cobb to the end zone, putting the Lions back in front, 15-10. 
Another quick answer came from the Eagles when Carter rumbled 22 yards up the gut of the Luella defense to climax a five-play scoring drive.
Eastside had a chance to put some distance between themselves and the Lions after Jamari Brown stripped Conway of the ball, giving the Eagles' offense another crack at it from the Luella 32. 
They'd go 3-and-out, but Cook missed a chance at a fourth down touchdown pass when he just overthrew Brown who was streaking down the sideline to the end zone with a couple of steps on his man. 
The defense would get it back for Cook and company when Jamari Brundage picked up another fumble — one of six turnovers forced by that unit. Three plays later, it was sophomore tailback Terrence Reid rumbling 12 yards for the score that put Eastside up 24-15 with just under a minute before halftime. 
Luella's benevolence continued on the first play of the very next drive when Conway coughed it up again and Eastside's Sam Button recovered at the Luella 27. Cook would connect on a pair of passes — a 17-yarder to Colby Shivers and a 10-yard score to Cobb — that granted Eastside a 31-15 lead that it would take into halftime. 
The third quarter picked up right where the second left off with Eastside forcing turnovers and turning them into points. This time it was Jerry Mays getting it done on both ends, as he picked off a Doby pass, then four plays later, was on the receiving end of a 9-yard touchdown pass from Cook, stretching the Eagles' lead to 38-15 at the 9:06 mark. 
Carter would add another one-yard score and then backup quarterback Jaylen Woods would complete a 50-yard pass to Giovanni Macek at the start of the fourth quarter followed by a scoop-and-score fumble recovery from Tucker Cleary to provide the final margin. 
The win was the final tune-up for Eastside as it will play arguably it's two biggest ballgames of the year in the next two weeks, starting with next Friday's tussle at No. 10 Woodward Academy, followed by a home game against Salem the following week. 
Eastside lost narrowly to Woodward last year in a matchup that ultimately decided the region championship. And Cook didn't try to downplay the importance of meeting up with the War Eagles again this season. 
"We've been waiting on this game all year," Cook said. "We've been preparing week by week for the games coming up. And we're gonna celebrate this win, but quickly turn the pages. We're ready to play. We're ready to get in and work and just play." 
Hoff agreed with his quarterback about the magnitude the next game carries. 
"Our guys knows it runs through them," he said. "They're the (region) champs. They're the champs until someone takes it from them. That's a quality football program, and they've been good for a long time. We were right there last year and had our shot. It's a big game. We've gotta go on the road, and definitely gonna be tested. It's the next one up for us."