1. Michael Hipps/Jovaal Hollinghsed's tale of sportsmanship. I'm not sure there would be much argument in naming this feel-good story in the midst of a family's heartbreaking loss the biggest sports story of the 2017 calendar year. In case you missed it, it happened when Eastside senior pitcher Michael Hipps was set to take the mound against region foe Henry County in Eastside's first game since the passing of Hipps' father, Mike – who was a community sports fixture, particularly for baseball. In an atmosphere already emotionally charged, thanks to the Eastside faithful donning shirts with the hashtag #One4Seven in support of the younger Hipps, it was the players on the field who took things to another level.
Henry County player Jovaal Hollingshed came to the batter's box, then put his bat down and walked up to the mound to Hipps, giving him a hug and, no doubt, giving him an encouraging, comforting word. The heart gesture turned into something heard and felt across the country, literally, as major news outlets around the nation picked up the story, giving it the much needed pub that it deserved. Kudos to Hollingshed for a classy showing of love and sportsmanship. Kudos to the Eastside baseball family that showed such strong support to the Hipps family, and continued thoughts and prayers to to them as they, no doubt, continue to push through their loss. If there was a moment that singlehandedly defined the potential sports community, it was this one.
2. The loss of a soccer community fixture. The passing of Sean Beam shook the local soccer community, as he succumbed to brain cancer early in the year. He and his wife Kharmin were fixtures in the community, even maintaining their own soccer training facility which was growing in popularity. But when Beam's passing happened, it also gave his soccer standout son Jordan, an emerging talent from Cousins Middle School, an opportunity to show first hand, the kind of impact his father had on his young life. It was a story that not only connected with Newton County's soccer family, but the area's sports scene in general. Jordan will start his freshman year playing for Eastside soccer this spring. 
 3. Newton County signs 18 to football scholarships. Newton County was well-represented when the 2017-18 college football season rolled around, thanks to a solid National Signing Day class in February 2017. The class included over a half dozen NCAA Division I signees, including four from Newton and Eastside who will attend the two premier programs in the state.
Newton's J.J. Holloman and Eastside's Eric Stokes will attend UGA, while Jaquan Henderson and Josh Tukes, both Newton High graduates, are set to join the Georgia Tech Yellow Jackets. 
4. Darnell Jefferies committing and signing to Clemson. After a solid junior season, Jefferies burst on the NCAA Division I football recruiting scene, getting offers from Georgia Tech and Georgia shortly after the season. It proved to be just the beginning for the 6-foot-4, 285-pound defensive lineman. All of the blue bloods came calling. Alabama, Auburn, Ohio State, Florida and Florida State and, of course, defending national champion Clemson. He pledged to Clemson back in June shortly after Newton's spring game, and despite any other overtures, he stayed true to his pledge and became the first Newton County player to take advantage of the new Early Signing Period for football recruiting prospects when he inked his National Letter of Intent on December 20. Jefferies graduated Newton a semester early and will report to Clemson as a freshman in January.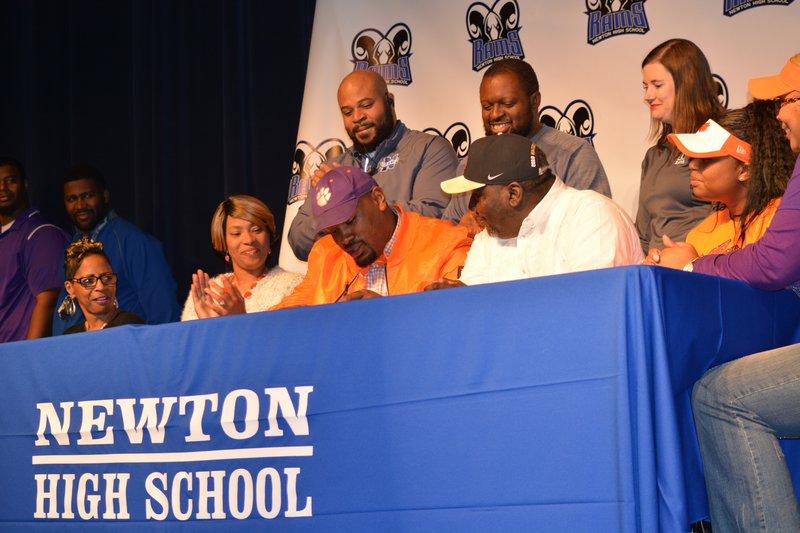 5. Eastside softball making it to Columbus. No Columbus experience? No problem. Not for the 2017 Eagles softball team. With just one senior and a solid, but fairly inexperienced group of sophomores and juniors, Eastside sent mild shockwaves through the world of Georgia high school softball by not only winning its region but advancing to the Elite Eight in Columbus for the first time since 2010. Eastside's lone senior, McKenzie Walker provided the seasoning, not to mention timely hitting, and sophomore pitcher Kailey Rusk — a recent Kennesaw State commit — came of age, particularly in the Sweet 16 state tournament game against Spalding where she recorded 12 strikeouts in a thrilling, extra-innings victory. With all but Walker returning next year, the future looks bright and a return trip to Columbus will likely be the expectation. 
6. Ashton Hagans committing to UGA basketball. It's been a long time since Georgia Bulldogs basketball has snagged a big time, nationally ranked high school basketball recruit. The last five-star recruit that pledged to the Dawgs was Kentavious Caldwell-Pope in 2011. He was drafted in the first round by the Detroit Pistons in 2013 NBA draft and is now playing for the Los Angeles Lakers. But before him, who knows. Hagans, a 6-foot-4 junior point guard who is rated the No. 2 2019 prospect in the land, is definitely the more ballyhooed player. Hagans had well over 25 Power Five and Division I offers, including the likes of North Carolina and Kansas with Kentucky showing strong interest. Hagans is currently averaging 18.9 points, 11.7 assists and 8.7 boards per game. He's also recorded six triple-doubles so far this season. If it holds, Hagans could eventually be the biggest local talent to sign with the Dawgs in recent history. 
7. Elija Godwin signs with UGA track. Staying in the vein of UGA's miniature Newton County pipeline, Godwin's signing with the Bulldogs' track team was just as big a coup for head coach Petros Kyprianou as Hagans is for Fox. Godwin is a two-time defending state champion in the 200 and 400 meters. He also was named the Gatorade Georgia Boys' Track Athlete of the Year for the 2016-17 season. Like Hagans, Godwin had the pick of the litter when it came to bonafide track powerhouse programs vying for his services. But he chose UGA, citing his desire to carve out his own path and legacy at a school not particularly known for its prowess on the track. Godwin will bolster a talented Newton Rams track squad that could challenge for a Class AAAAAAA state championship in 2018. It would be the school's second in the last three years. 
8. Newton Ballers having success. Freshman year has been good to two of the more exciting Newton Rams hoopers to come through Covington in recent years. Both J.D. Notae and Isaiah Miller have starred in their freshman campaigns at their respective schools. Notae is the second leading scorer for his Jacksonville University squad, averaging 14.6 points per game to go along with 5.7 rebounds, 2.4 assists and 2 steals.
 The sharpshooting guard is making 3-pointers at a 36 percent clip. Meanwhile, Miller is averaging 7.8 points per game for UNC-Greensboro, but he's been electrifying crowds with some of the same high-flying slam dunk action that made him a crowd favorite on the high school scene. One of Miller's best dunks in college came on an alley-oop pass that he threw down over a NC State defender. That play made the rounds on social media, thanks to ESPN's Sportscenter Twitter page picking it up. But he's not just dunking. Miller has hit double figures in scoring five times this season, including a career-high 19 points against Ferrum on Nov. 17. He had a three-game stretch at the beginning of December where he scored double figures, and he most recently tallied 12 points against Southeastern just before Christmas. 
9. Area football players win SEC championship rings with Georgia. The biggest year for UGA football, potentially since the 1980 national championship season, was just as big for several Newton County area athletes who donned the black and red. Former Eastside star, Eric Stokes and Newton alum J.J. Holloman will each get the chance to sport a SEC Championship ring for their part as UGA freshmen. Holloman graduated Newton early last year and enrolled at Georgia in time enough to flash his potential during the 2017 G-Day Spring Game, while Stokes spent valuable time on the Dawgs' scout team. Thanks to Georgia's 54-48 overtime win against Oklahoma in the Rose Bowl, Stokes, Holloman and the Bulldogs will return to the Mercedes Benz Stadium in downtown Atlanta Monday for a chance to win the school's first football national championship in 38 years. 
10. The Covington News Football Preview Magazine. The 2017 high school football season was particularly special for our still fairly new sports staff at The Covington News. The football preview magazine was a huge success in that it provided the most comprehensive football preview the area has seen, and as a magazine, was a first-of-its-kind sports publication in Newton County. From the fun cover contest that saw Newton's Darnell Jefferies grace the magazine's front, to the in-depth look we gave every GHSA high school, as well as some private and middle school programs, colleges and our Newton County athletes in the NFL, all the way to the kindness of our community's advertisers who made the magazine a smashing success, it was a perfect way to jump-start the season with unprecedented buzz. And if you think the 2017 version was awesome, wait until you see what we have in store for 2018.