COVINGTON, Ga. — Half of the Newton County area teams qualified for their respective postseasons in 2023. 
Alcovy made it to the first round of the Class AAAAAA playoffs while Social Circle advanced to the Elite Eight of the Class A-Division I postseason. 
Eastside and Newton narrowly missed the mark with each squad finishing in fifth place of their region standings. 
Throughout the 2023 campaign, each team had numerous players showcase their talents on the baseball diamond. 
So, The Covington News will honor those performances with an All-Cov News Baseball Team, headlined by a Most Valuable Player, Slugger of the Year, Newcomer of the Year, Most Improved and Coach of the Year. There will also be a First Team and each school will receive an honorable mention. 
Most Valuable Player: Reece Payne, Alcovy Tigers
Reece Payne showcased his Most Valuable Player's performance at the plate as well as on the mound. 
So much so that Payne registered the area's second highest batting average and had the most strikeouts from his pitching position. 
Payne finished his senior season with a .450 batting average along with 22 RBIs. He recorded 29.1 innings pitched and had a 3.34 ERA coupled with 59 strikeouts. 
When all was said and done, Payne was named to Region 3-AAAAAA's First Team as a center fielder and Second Team as a pitcher. 
Slugger of the Year: Mason Moore, Social Circle Redskins
Spoiler: Mason Moore knows how to hit a baseball. That much was evident after leading the area in batting average and home runs. 
That made him the final choice to be the Slugger of the Year. 
Moore recorded a .552 batting average, batted in 37 runs and cleared 10 homers past the outfield fence. 
Region 5A-Division I coaches took notice of Moore's big bat, too, after the senior Redskin was voted as Region Player of the Year.

Newcomer of the Year: Will Cutshall, Eastside Eagles
It didn't take long into Will Cutshall's high school career for the freshman Eagle to make significant noise. 
Cutshall exploded onto the local baseball scene in 2023. He finished with a .414 batting average, had 23 RBIs and drilled three home runs. 
For an Eastside squad that is expected to return 72 percent of its roster next season, Cutshall seems to have become a leader based on his performance. 
That is why he earned Newcomer of the Year honors. 
Most Improved: Miguel Barbis, Newton Rams
In Miguel Barbis' junior season last year, he didn't crack a .300 batting average and only mustered five runs batted in. 
This year, however, in his final season as a Newton Ram, Barbis recorded a .333 batting average — which is improved from last year's .274 average — and more than doubled his RBI total, registering 12 on the season. 
By Barbis displaying much improvement from season-to-season, he was selected as this year's Most Improved player.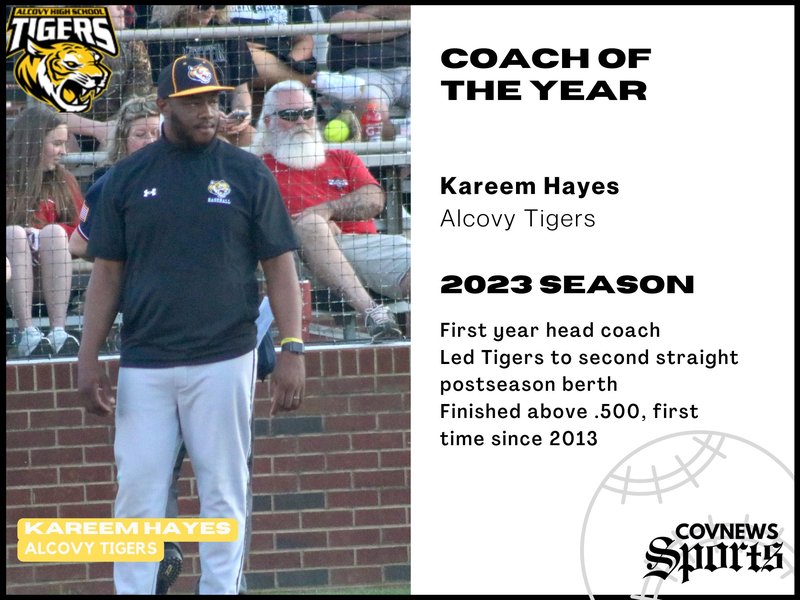 Coach of the Year: Kareem Hayes, Alcovy Tigers
Last year, the Alcovy Tigers ended their near decade playoff drought by earning the No. 4 seed. Kareem Hayes was an assistant coach, but this year he was promoted to lead the program. 
And that he did. 
Under Hayes' direction, the Tigers punched its second consecutive playoff ticket and even qualified as the No. 3 seed from Region 3-AAAAAA. On top of that, Alcovy finished with an 18-11 overall record, which marks the first time since 2013 that the program recorded an above .500 record. 
By accomplishing all of this on Hayes' watch, the first year head coach paved the way for him to receive Coach of the Year honors. 
FIRST TEAM
Alcovy Tigers
Hunter Parker performed admirably on the mound as well as at the plate. He batted a .291 average and batted across 17 runs. As a pitcher, Parker registered 40 innings pitched, had a 2.27 ERA and struckout 41 opposing batters. He earned First Team All-Region honors as a pitcher and Second Team All-Region honors as a second baseman from Region 3-AAAAAA. 
Cooper Duncan led the Tigers with 23 RBIs along with a .307 batting average. On the mound, Duncan pitched for 42 innings, finished with a 3.50 ERA and registered 49 strikeouts. As an infielder, Duncan earned Second Team All-Region and received First Team All-Region from Region 3-AAAAAA honors for his pitching performance. 
Parker Gassmann was toward the top of the area in terms of home run total. He finished the 2023 season with seven along with 20 RBIs and a .292 batting average. At the end of the season, Gassmann was named to the First Team All-Region from Region 3-AAAAAA. 
Eastside Eagles
Jackson Allen performed well for the Eagles this season both at the plate and on the mound. He recorded a .333 batting average, had 19 RBI and drilled two homers. Allen also registered 25 innings pitched, went 4-1, recorded a 1.96 ERA and finished with 28 strikeouts. 
Newton Rams
Jerome Mays seemed to be a consistent batter for the Rams in 2023. He finished the year with a .286 batting average and recorded six RBI. 
Social Circle Redskins
Brayden Mitchell was a leader for the Redskins in multiple ways. First, he was among the team leaders with a .423 batting average as well as 39 RBI. He went 6-2 in his pitching outings, which totaled 46.2 innings pitched, a 3.50 ERA and 56 strikeouts. Region 5A-Division I recognized Mitchell's senior performance by naming him First Team All-Region. 
Logan Cross was named First Team All-Region by Region 5A-Division I coaches following his senior season's showing. He recorded a .388 batting average, batted 33 runs in and had one homer on the year. 
Mitchell McCullough anchored the Redskins' defense down from his catcher position. But, more so than his defense, McCullough batted a .369 average, had 33 RBI and homered twice in his senior campaign. During the postseason, McCullough was announced as a First Team All-Region honoree from Region 5A-Division I. 
After playing last year as part of the Redskins' junior varsity squad, Luke Smith seemed to impress all year long. First, he finished his junior season with a .303 batting average and connected on 13 RBI. Then, as a pitcher, Smith went 8-1 in his 59 innings pitched. He also struckout 87 opposing batters and finished with a 1.31 ERA. Region 5A-Division I coaches voted Smith to be a part of their First Team All-Region. 
Honorable Mention
Alcovy: Rodgis Ponder Jr. 
Eastside: Colton Fincher
Newton: Caden Brown
Social Circle: Ty Lemaster