COVINGTON, Ga. - Antavian Love, the now 19-year-old convicted of murdering Enrique Ramirez Trejo in June of 2016, has filed a motion for a new trial, claiming unjust sentencing and unlawful use of statements. 
Love's attorney, Jason Kang of the Alcovy Judicial Circuit Public Defender's Office, argued that at the time of the murder, Love was only 16 years old and law enforcement did not follow proper policy during interrogation, because his mother was not contacted prior to questioning. 
"In this case, Mr. Love was only 16 years old at the time. In terms of education, he was only in the ninth grade," Kang said. "He did not know the substance of the charge. He was told by the officer that 'You are not being arrested, you are just being detained.' They did not tell him what he was being investigated for. 
"At the beginning of the interview, he thought he was being detained for a curfew violation. It is not until later that he found out that he was being investigated for murder."
Kang argued that the investigators involved did not attempt to contact Love's parents at all during his interrogation. 
"Surely, any parent who is given notice that her son is not only detained, but was being investigated for murder would want to be present, or at least assured that her child understands her rights," he said. 
Kang asked the court to reconsider the motion to suppress Love's statements due the fact that he was unable to consult with his mother or an attorney.
"We would ask the court to consider Mr. Love's inability to consult with his mother as well as an attorney as one significant factor among the other strong circumstances that would indicate there was not a knowing and intelligent waiver of his rights and therefore his conviction should be overturned," he said. 
Representing the state, District Attorney Layla Zon argued the opposite.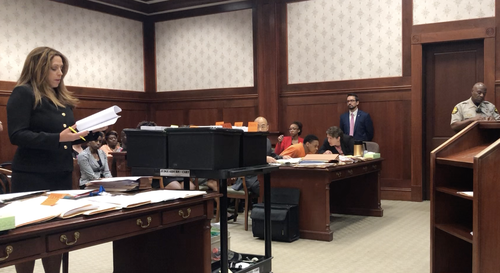 "The defendant was advised twice of his rights," she said. "He contends that he repeatedly asked to have contact with his mother. That evidence was refuted at the motion to suppress hearing as well as at trial."
Zon said the interview in question was 57 minutes and Love never asked for his mother. 
"It really is a credibility question on whether the defendant is telling the truth or all the law enforcement officers are telling the truth," she said. 
Zon said evidence shows that Love knew what he was being questioned about and still did not ask to consult with his mother or an attorney. 
"This notion that the defense just raised that he thought he was going to be in trouble for a truancy violation is laughable in light of what we know he knew," he said. "We know what was in his mind as he was running from police because he confessed in that 57 minute interview just after he was arrested so we know the defendant was aware that the police were involved in a murder investigation." 
Kang also argued that Love's sentence – life without the possibility of parole – was unlawful due to his age at the time of the crime. Love was sentenced to life without the possibility of parole in July of 2017 after he was found guilty on seven charges in April of that year. 
"Children are constitutionally different than adults for the purpose of sentencing," he said. "First, children have a lack of maturity and an under-developed sense of responsibility leading to recklessness, impulsivity and headless risk taking. Second, children are more vulnerable to negative influences and outside pressures including from family and peers and they have limited control over their own environment. Third, a child's character is not as well formed as an adult's. His traits are less fixed and actions a less likely to be treated as evidence of irretrievable depravity."
Kang said Love's juvenile arrest history and school disciplinary record were used alongside his actions associated with the crime itself. That information was used to determine that rehabilitation was not a realistic expectation for Love at the time of his sentencing. 
Zon said a sentencing hearing was provided for Love – lasting several hours. 
"Immature youth was not the same thing that we saw in this case," she said. "This was a callous, cold-blooded murder that was pre-meditated and planned."
Zon said Love's juvenile history showed an upward trajectory and showed that he was not being rehabilitated through the juvenile court system. 
"This case is a case that is worthy of that punishment and we have proven that at the sentencing hearing," she said. "The law allows for it and the court's sentencing order was lawful and constitutional and we ask that the court deny the defendant's motion."
Superior Court Judge Samuel D. Ozburn said he would consider all arguments presented and issue a decision on the motion for a new trial at a later date.