In their third region game of the season, the Eastside Eagles were looking to continue the offensive momentum they established last week in a 56-14 rout of Druid Hills. They did just that with another dominating performance in which they won another running clock game by a score of 52-21 over Region 4-AAAA foe, Henry County. 
Here are five things we learned about Eastside from Friday night's game:
1. They're dominating the region. Eastside has played three region games so far against Luella, Druid Hills and Henry County. In all three of those games, Eastside has scored 50 or more points. It has outscored region opponents 158-41 thus far. There's no question that the Eagles are easily a top two team in region 4-AAAA. But their true test comes next week against defending region region champion, Woodward Academy. If Eastside can squeeze past Class AAAA's No. 8 team, it may very well not lose another game in the regular season. 
2. Glad to have you back, Noah Cook. In the first game of the season against Luella, Noah Cook looked incredibly sharp, particularly as a sophomore quarterback starting his first varsity game, completing pass after pass, mostly to go-to receiver Brayden Harper. However, the luxury of having him under center was short lived when he went down with a collarbone injury in week two against Newton. Friday night, he was finally back on the field, and the Eagles' passing attack seemed to flow even better. Not to discredit Harper, because he did a tremendous job filling the void while Cook was out. But when you get Harper at receiver with Cook slinging it to him and Jamari Brown along with the Eagles' stable of running backs out the backfield, the Eagles have one of the most potent passing attacks not only in the county, but in their region. "I missed it," Cook said regarding his absence from the field. "I missed it a lot. Having Brayden as an extra receiver out there just makes everything run smoother." Cook completed 15 of 23 passes for 141 yards and two touchdowns.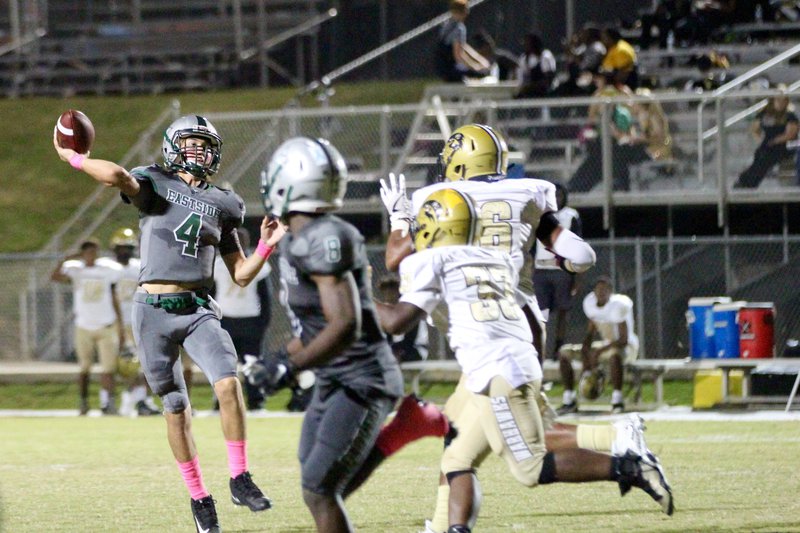 3. Tyon Davis, welcome back as well. After being noticeably absent with an injury in the last few games, Davis saw his first action in several weeks and made the absolute most of it. Ten carries for 136 yards and two touchdowns later, he reminded everyone of his importance to the Eastside offense, and that he is hungry for more touches. It was said at the beginning of the season that the 1-2 punch of Carter and Davis could be deadly, both in the running and passing game, and that assertion was on full display tonight. The duo combined for 23 carries for 245 yards and three touchdowns, while Carter added another receiving touchdown.
4. But, they aren't the only rushers looking to make an impact. Take Carter and Davis out of the equation, and you still have monster running backs in freshman Quincy Cullins, Shamar Hunter and Jordan Rodgers. Last week against Druid Hills, Cullins led all rushers with 94 yards on ten carries in a game where the Eagles rushed for over 320 yards. This week, Eastside eclipsed the 300-yard rushing mark again as a team, compiling 329 yards on the ground. That gives the Eagles 653 rushing yards in two games. They are literally running away with these region games. The depth at tailback is astounding, but don't forget about the guys up front. It's Eastside's offensive line that is paving the way for this explosive rushing attack.
5. Flat out, this team is clicking on all cylinders right now. Overall, this team has just been dominant in the last few weeks on both offense and defense. They haven't faced the toughest opponents out there, but when they have faced harder match ups, like the ones against Loganville and Oconee County, they have also showed an incredible amount of resiliency, pulling out big wins in fairly close games. I'm really believing that the 40-0 shutout loss to Newton fueled a fire in this team. Minus a few turnovers in some games, they're executing at a high level, and are getting better by the week. They're toughest regular season test comes next week against Woodward Academy. If they play like they have been over the last few weeks, it's going to be a fun game at College Park next week.