COVINGTON, Ga. — Heart. 
Other than the life-sustaining organ that this simple word derives from, heart is a characteristic used to depict those who never give up, even in the face of adversity. Most commonly, it is used to describe athletes of various sports who find ways to break barriers and reach new heights every day, even when times are not always as triumphant below the surface. 
However, there's a particular group of athletes that possess so much heart that they effortlessly inspire and motivate others around them.
Not only do they have heart, but they have courage. They have strength. They have compassion, determination and any other positive trait one could come up with.
They are the athletes of the Newton County Special Olympics, and in the incredible, annual week-long track-and-field style event held at Sharp Stadium every year, all who witnessed them compete were reminded just how special they are. 
Surrounding them is a heart-filled and inspired community in their own right that works tirelessly to ensure that all of these athletes achieve any goal they set their minds to. These who work with them are student and company volunteers, public safety officials, coordinators, parents and more. 
The event workers, the athletes themselves and everyone in between have a story. The collective stories they tell is what brings the entire Special Olympics event together to display not only the heart of the athletes but the community as well. 
As I covered the events this year, it is my pleasure to be able to tell these different stories. 
Making it Happen 
If you ask event coordinator, Latrelle Cawthon how much heart her athletes possess, she will give you the straightforward answer that many would mutually agree on. 
"They have more heart than we do," she said. 
Cawthon is in her eighth year coordinating the event as well as being in her 16th year overall with the Special Olympics, but she noted that every year there is something new that continuously makes the week so special.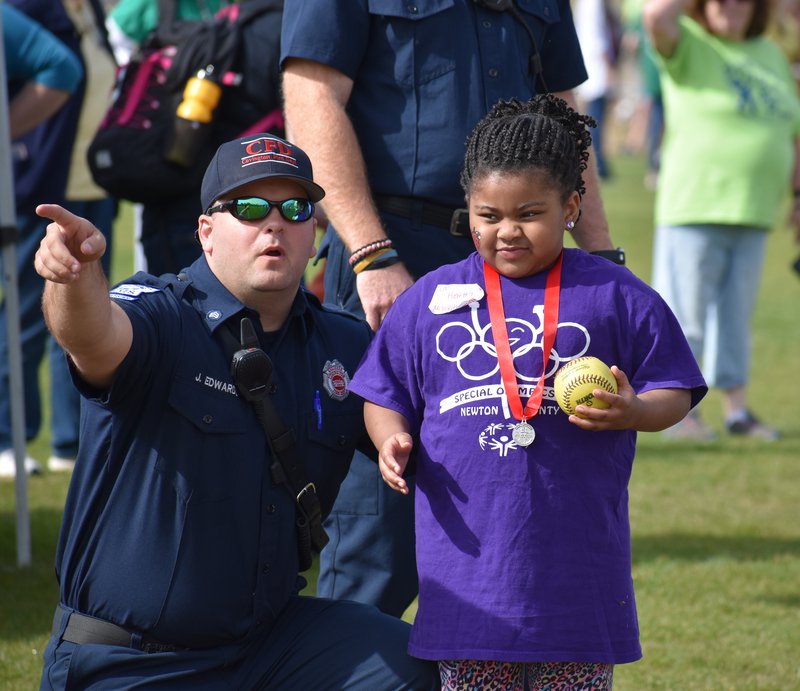 The director of special education in Newton County, Brooke Ramsey, agreed.
"It's a joy," Ramsey said. "This is the reason why I became the director of special education in the county. As a student here in Newton county, I volunteered through sports and different clubs and organizations all through middle and high school, so this is why I do what I do, and I love it."
Like Cawthon, Ramsey sees how much heart and motivation are in these athletes and notes how encouraging it is. 
"It is very inspiring," she said. "All of these kids have a motivation to want to do their best every day. They can be an inspiration to every person out here."
As for the student volunteers, Ramsey hopes that the event will inspire them much as it did her so that the future of Newton County Special Olympics remains bright. 
Inspired Buddies
Students from the Newton County Theme School's Junior Beta Club, Student Council, dance team along with sixth grade students lined the field at the start of the events on Wednesday morning, waiting to be paired with an athlete. 
For many of them, their time volunteering will forever change the way they view challenges in their own life. It will also inspire them to no end and increase their own will and determination. 
At least this is how it felt for NCTS seventh grader, Steven Livingston, who enjoyed every second he was out there with his paired athlete.  
"It was an amazing feeling to see the kids have fun and do something that they enjoy," he said. "I enjoyed it very much just seeing them enjoy themselves."
For Steven, watching the athletes overcome so many obstacles to compete inspired him in a way that makes him feel like he, himself, can could do anything. 
"It's so touching to see the passion that our middle school students have," said Theme School teacher Amanda Norton as she watched her students being buddies for the day to the athletes. "They are so excited about volunteering that all the middle school kids wanted to get chosen to be able to do it."
Norton believes that their passion for volunteering accurately portrays the heart that the students have to participate. 
"I think that middle schoolers get lost in their world sometimes," she said with a laugh. "I think them coming out and seeing these elementary school students who face struggles that our students don't necessarily see on a day-to-day basis just kind of opens up their eyes."
Fighting back the tears is an all-day occurrence for Norton as she watches the athletes cross finish lines and throw balls as far as they can, all while her students cheer them on and encourage them. 
But at the same time, these athletes encourage the community as well. 
The source of it all
While the heart of the community is one lifeline to the Special Olympics event, the most important one perhaps is the heart of the athletes themselves. 
Last year, after using a wheelchair most of her life, 11-year-old Taylor "Sassy" Heyward raced across the finish line of the 50-yard dash with her walker — an accomplishment that touched the hearts of many. 
This year, on her birthday, she did it again while still tugging on the heart strings of everyone who watched her race. 
"She is a strong-willed young lady," said her grandmother, Sadie Graves. "She's just helped so many people to overcome some of their setbacks because of how she has overcome hers."
Graves, who came all the way from Virginia to see Taylor race knows how courageous she can be, even in the face of triumphs. 
"She doesn't look at herself as disabled," Graves said. "She is proud of who she is and what she has become, and I am thoroughly delighted. It makes my heart swell for her to participate and be a part of this."
Athletes like Taylor — or one of the other racers who turned around right before the finish line to hug his or her teacher — put their huge hearts on display for all the county to see all day long.
You can even look at former athletes like Beau Whorley and Taylor Bradley, who now volunteer with the event as sources of inspiration. Their love for this event is so high that they continue to help out in any way possible. 
"Yes." is the only word Beau uttered out with a beaming smile on his face when asked if he loves doing what he does. But that one "yes," coupled with that smile, was enough to show just how much the entire event meant to him. 
A Loving Community 
Whether one was there as a volunteer from one of the many local volunteering companies like Bard, or you were present as a student buddy, a parent, a coordinator or an athlete, there was no shortage of big hearts on display in this year's Special Olympics games.
With so many things happening around the world aimed at driving a wedge between people, there is nothing more refreshing and encouraging than to see one event bringing smiles, cooperating and camaraderie to every single face of those in attendance. 
Whether an individual's heart was in volunteering, working stations, providing entertainment, or watching the magic unfold with a camera and a love for these events like me, there is something for everyone to invest in at the Special Olympics — even beyond this past week's event. 
As the Special Olympics continue to grow in Newton County, so too will the hearts of everyone involved.