COVINGTON, Ga. -- The bright lights at Sharp Stadium are going to get another preseason workout tonight as the Alcovy Tigers host Jackson in a preseason scrimmage at 6:30 p.m.
Our Tyler Williams will be in place covering the action tonight. Here are five things to watch in tonight's matchup with the Red Devils from Butts County. 
1. The progress of coach Damoio'n Wright's offense. The last time we saw the Tigers was in the spring game against Woodland back in May, and the offense sputtered a bit — which was to be expected for a variety of reasons, not least of them, game field conditions that were victimized by bookend downpours in the first and fourth quarters. The latter actually stopped the game early. But the summer has been kind to the Tigers. Quarterback Nick Simmons is more comfortable with his new corps of receivers. Alcovy's got a solid stable of tailbacks with the Robinson twins, Natorian Holloway and Cameron Daniels and a hefty line (we'll talk about that next) to protecting the trenches. So watch particularly for the progress of the passing game tonight.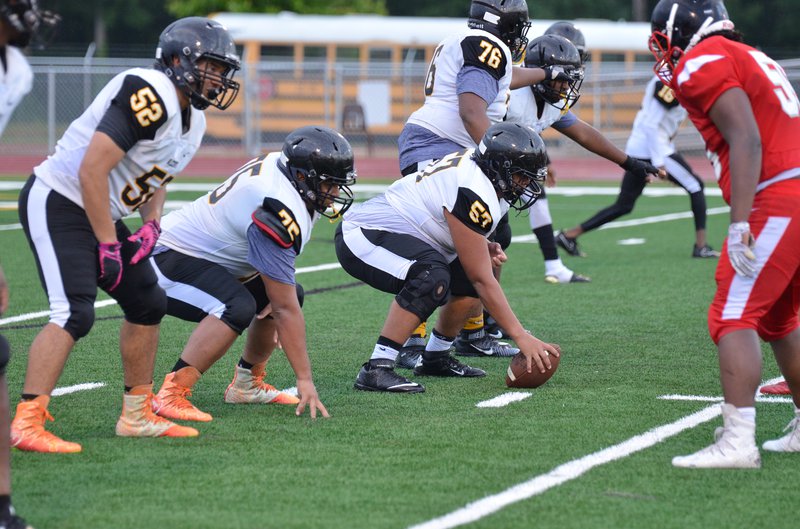 2. The progress of the Tigers' O-Line. One of the most noticeable signs of program progress at Alcovy over the last two years comes when you go to practice and just notice the size of their players. Size, particularly up front, that just wasn't there when Edgar first took charge. But these aren't just behemoth space eaters. They are all-region performers, such as Gavin Fletcher and Marcus Perdomo. One player on the line worth keeping a specific eye on is 6-foot-2, 315-pound junior Jacob Wade. There likely won't be a lineman on Alcovy's starting front that will weigh less than 270 pounds. That's gotta be exciting, particularly for Simmons and those running backs. 
3. The progress of that potentially ball-hawking defense. All offseason Edgar's been raving about the intensity of his defense. And one of the memories we have from the spring game is that Alcovy looked just as stingy and assertive on defense as it looked, at times, hesitant and unsure offensively. There are next-level playmakers on each layer of the 'D,' including Jalen Banks and James Adams up front, and a secondary Bryson Wilcox, La'Ken Nettles and the Robinson Twins on the backside. But tonight, watch the middle — particularly linebackers Demetrius Thrower and Logan Wyatt, and perhaps even Javari Smith, whom Thrower said is one of the hardest hitters on the team. Speaking of Thrower, you'll read his story this weekend in our football preview. He could be one of the unsung heroes of this season, when it's all said and done. 
4. The progress of Nick Simmons' backups. Not that we're trying to create a quarterback controversy. Simmons is truly the man behind center. However, it would be less than prudent if Edgar and his staff didn't peruse the sideline to find his backup in case of injury. After all, it was an injury to now-departed quarterback Cam Anderson that thrust Simmons into the starting role last year in the first place. A couple of names to watch — Javari Smith, who lined up at QB during the spring game and showed some decently deft running ability out of the zone-read. He may see some action tonight. And there's a possibility that freshman Caden Cook could see some snaps as well. 
5. The ability to finish. Just in general. Finish plays. Finish drives and finish games. Well, the last one not so much tonight — at least not from the starters, as they'll likely be pulled by the end of the third quarter. But Jalen Banks himself has noted that there were at least three region games Alcovy should've won last year, if not for mental mistakes that caused promising — and potentially scoring — drives to falter. In such situations, any coach will tell you that beefing up the size, physicality and talent quotient of your team means nothing without the ability to finish. And that typically means paying attention to detail and the little things that often make the difference in a win or loss. 
The Red Devil Watch: Typically, coaches schedule scrimmages just to give them some real-time action against a real opponent that produces valuable film footage, and Jackson should pose a decent challenge. Senior quarterback Dequarius Johnson is a left-handed, dual-threat guy who's much improved after compiling over 1,200 yards of total offense last year while helping the Red Devils to a Class AAA Playoff appearance in 2017 where they almost toppled a No. 1 seed.