GROVETOWN, Ga. — As Alcovy coach Chris Edgar gathered his guys for the final post practice huddle of the week before the first Region 3-AAAAAA game of the season, it was easy to discern the narrative being preached to his team. 
One coach kept shouting, "We're 0-0, baby. It's 0-0." And Edgar himself began his post practice huddle echoing those sentiments. 
"It's the beginning of the new season," Edgar said. "We're in the second season now." 
The gauntlet non-region schedule ended with a 56-0 loss to top-ranked Colquitt County last Friday that was admittedly more about experience than it was about pulling off the upset of the year. 
As Edgar watched his team battle against a clearly superior opponent last week in Moultrie, his mind was on the future. 
"Colquitt was a first class organization, and they did everything you'd want to see done from a host school," Edgar said. "They took care of us. They made sure our needs were met the whole time. But I wanted our guys to experience that South Georgia football mentality. If we make the playoffs, we're matched up with that Coastal Plains side down there in Southeast Georgia with Effingham and Bradwell Institute. I wanted them to get that, and what better place than Colquitt?"
But now the focus shifts to Region 3-AAAAAA — a wide open Region 3-AAAAAA at that. To say that Alcovy could play themselves into region title position isn't a stretch, given the amount of turnover from the 2017 season on all region team rosters. 
"Our region's kind of upside down and crazy right now, and everything is up for grabs," Edgar said. "That said, I can't wait to get region play started. All along I said our non-region schedule would be brutal and that would be to serve them as we get into region. The team's excited. They're ready to go. Every goal is still absolutely on the table, and the first half of the season's record doesn't matter. After this weekend, three teams will be 1-0 and three will be 0-1 and we want to be apart of that first group."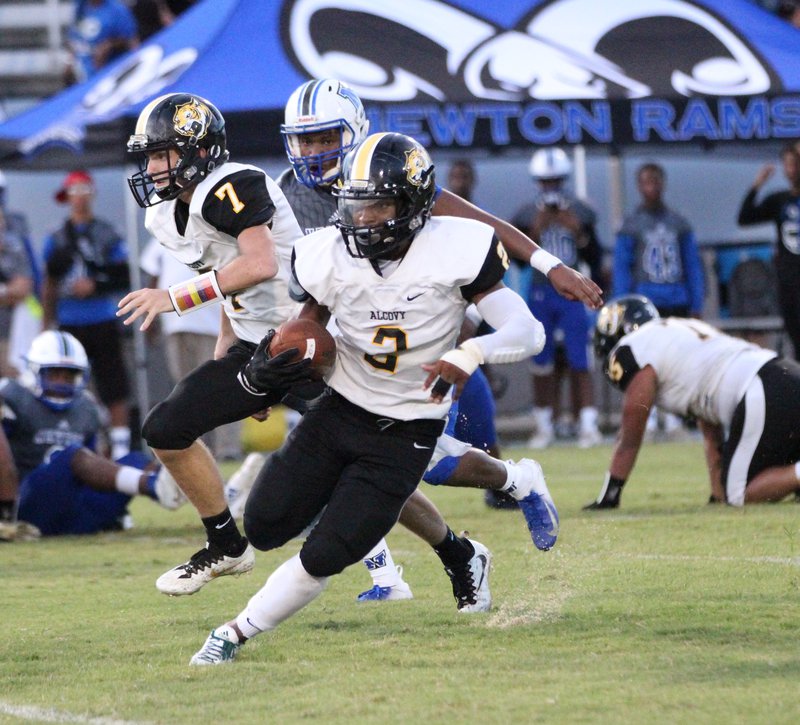 The Matchup: Alcovy Tigers (2-3, 0-0) at Grovetown Warriors 1-4 0-0). Although Grovetown has struggled in its first five games, there are still playmakers on the Warriors' roster. In fact, the region's top two rushers — Alcovy's NaTorien Holloway and Grovetown's Jonquavous Brown — will face off in a game that could move fairly briskly, given how much both teams will likely want to run the football. 
Both teams are looking for their first region win of the season. But Alcovy wants to break three-year region win drought. 
The When and Where: Friday October 5, 7:30 p.m. at Archer High School, 2010 Warrior Way, Grovetown, GA.  
The Key Players: As mentioned, all eyes will be on the tailbacks and the ground game tonight. Grovetown's Brown will be a familiar face to Alcovy's defense, as he transferred over from Greenbrier after rushing for 1,422 yards and 20 touchdowns last year while averaging eight yards per carry. Last year against Alcovy, Brown had 119 yards and a score in their 21-10 regular season finale win over the Tigers. Brown is considered a two-star prospect by 247sports.com, and holds offers from Miami-Ohio, East Tennessee State and Southern Illinois with interest from the likes of Purdue and Ball State. He's a legit Division I talent, and maybe the best tailback the Tigers will face the rest of the way. 
For Alcovy, Holloway will be looking to get back to his 100-yard rushing ways after gaining -1 rushing yards on six carries against perhaps the state's top rushing defense in Colquitt County last week. No need to hang the head about that. Coach Edgar said Adrian Robinson will sit out again this week as he's still mending from a broken collarbone injury sustained in an early-season practice. Defensively for Alcovy, watch for usual suspects like Jalen Banks and James Adams to have big nights up front. Linebacker Javari Smith and junior corner Jaquez Snell have been coming on for the Tigers' D as well. 
Alcovy wins…If it can control the line of scrimmage on both sides of the ball, and stay away from self-inflicted errors. Stopping the Grovetown run game will be just as important to the Tigers as working to establish their own. To ensure a win, the Tigers may need one of their quarterbacks to generate some offense through the air — at least two or three plays of 15-plus yards would help loosen up things for the rushing attack to be even more effective. One plus for Alcovy is that it may finally be big and strong enough up front to handle the region grind.
Grovetown wins…If it can control time of possession with its own version of ground-and-pound offense, and if it can force the kind of Alcovy miscues that can give its struggling offense some short field situations. 
The Prediction:  It's been three years since Alcovy's won a region game. Each year since Edgar's been at the helm, there's been progress. We say the Tigers take the next step tonight and give Edgar his tenure's first region win. Score: Alcovy 24, Grovetown 14.