COVINGTON, Ga. - For the third consecutive year, residents across the region will have the opportunity to get face to face with some of the area's largest employers during the 2019 Regional Job Fair scheduled for Friday, Oct. 4 at Georgia Piedmont Technical College. 
Through a partnership of Newton, Rockdale, Walton, Jasper, Morgan and Greene Counties, this year's job fair will offer opportunities for all skill and educational levels. 
"It is important that we work with our regional partners. We have found that our residents live and/or work in one of these counties and it is important that we work together to continue to help find them careers," Serra P. Hall, Covington/Newton County Economic Development senior project manager, said. "It is important to see the regional picture."
With more than 60 vendors last year, Hall said there is room for even more in this year's event. 
"We are really excited to make this an open forum for people to come in," she said.
In its first two years, the job fair averages more than 1,000 job-seekers and about 15% of those people have been successful at finding employment. 
"We're all about getting people jobs, training for jobs and this job fair can lead to those jobs," Dr. Tavarez Holston, GPTC president, said. "It is important because we are getting the employers onto our campus and that is where the training for the workforce occurs and it is also the place where that experience for the student starts through an orientation of what the industry is all about and making that jump and that leap to the next phase. It is a connection point for the student, the job and the employer."
As a special guest, this year's event will feature U.S. Congressman Jody Hice.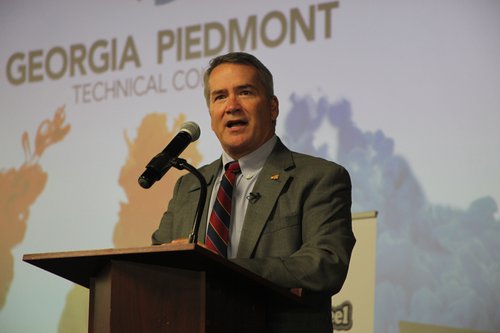 The application deadline for industry partners is Thursday, Aug. 29 and a full list of this year's vendors will be released in early September. For more information about this year's job fair or how to get involved, visit https://www.selectnewton.com/regional-job-fairs.